Propose with a ring and a video all in one box!
by Salman in Gadgets, Geeky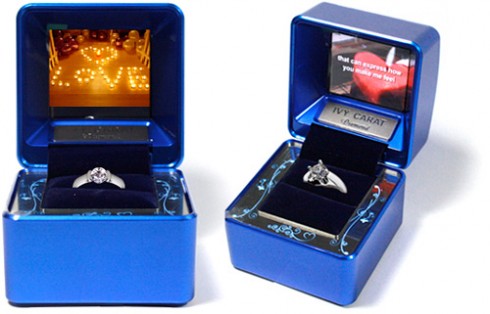 Well, when I say video and box simultaneously then I really don't want you people to think about some huge box as all that we have here is the small box that includes the expensive ring that you bought for her plus a two-inch TFT LCD which will play the video of your choice. Yup! You read that write. Now you can gift her a ring with a video that she will love the most so as to make the moment extra romantic. It can be the video of the day when you saved her from a group of 10 thieves!
Girls love guys doing different stuff for them and going a bit techie might surely turn her on if she is already impressed with your overly techie attitude. The multimedia gift designed by KJ Global has a 128 MB of internal memory and comes with a USB rechargeable battery. The life of the battery is over an hour which is enough for the special moment. You people will be busy curdling with each other if your proposal goes successful after an hour! Right?
The jewellery box will be able to play a 3GP file and has small speakers for those who want to record their messages (in case you are overly shy). The package comes with a software program for converting videos. One can display image files in the 2 inch TFT screen. The box is worth £80.71 ($102.56) and can be shipped to any part of the world so go grab yours and make your special day a bit different.
Brought to you by GadgetLite.com