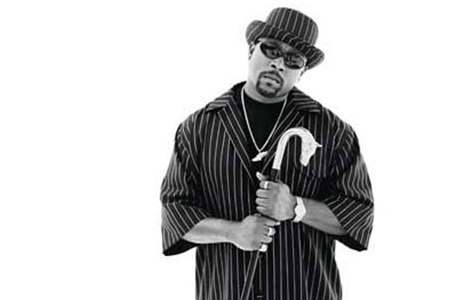 Hip-hop artist Nate Dogg died Tuesday after a series of strokes. The Long Beach native was part of young group of influential rap artists who used to hang out at a record store on the corner of Pacific Coast Highway and Martin Luther King Avenue.
Michelle Wallace, 49, of Long Beach pulled up to VIP Records and saw a posterboard taped to the wall, covered with curved-letter tributes from Nate Dogg fans: "Always Repping Long Beach" … "Forever in Our Hearts."
That's how Wallace found out that one of her favorite hip-hop artists had died. She'd seen him out in public every now and then.
"In the mall, Lakewood Mall, he would talk to everybody," she said. "He was real friendly. He wouldn't discriminate. He would talk to other people, especially at Lakewood Mall, and he always loved to wear red."
VIP Records not only sells hip-hop music, it launched pioneering hip-hop acts. Two decades ago, longtime friends Nate Dogg, Warren G, and Snoop Dogg came up with their first raps and beats, and recorded demo tapes there.
"They just hung out here everyday," remembered Kelvin Anderson, who owns VIP Records. "Hung out here a lot, and they were definitely different from everybody else and stuff because you had someone who was a DJ, someone who could rap good, and someone who could sing and they could put it all together."
Nate Dogg and his friends called themselves 213, the area code in Long Beach at the time. Rapper-producer Dr. Dre heard their VIP Records demo and used their talents on his now classic 1992 album, "The Chronic."
A couple of years later, Nate Dogg and Warren G popularized a more soulful style of rap called "G Funk."
"The present generation is well aware of Nate Dogg," said Anderson. "They have a lot of stuff online, his music, because of the fact he's performed on so many people and so many big people's projects and stuff, that his music is still out there and being played on a regular basis."
Nate Dogg's lawyer said he died from complications of recent strokes he'd suffered. He was 41.
source